Introducing Toastilla©...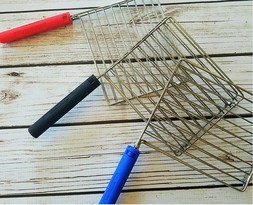 ​
Toastilla© is being introduced as the first product in a line of potential products for DI Works LLC. By utilizing your existing toaster to create healthy snacks and meals with Toastilla's extended accessory, the possibilities now go beyond just toasting bread and have become endless. While the toaster has been around since 1893, it has not done much more than toast bread. The toaster has been a household staple for many years, yet the percentage of time that it is used is extremely low. With Toastilla we intend to change that. Our mission is to bring Toastilla to the mainstream market.
Differentiating Factors – Toastilla strives to promote healthier eating on the go. By allowing you to cook corn tortillas, in your toaster, for taco night, you are left with perfectly heated tortillas with no need for excess fat from cooking in oil and done quicker than it would take you to heat up the pan. With Toastilla your tortillas stand upright in your toaster, keeping their shape, not bending or breaking and Toastilla makes it easy to pull your tortillas out of the toaster without burning your fingers. But, it doesn't stop there. You can wrap anything in a flour tortilla, execute the classic "Toastilla" fold, lay it on the Toastilla, clamp it shut and pop it in your toaster. Out pops a creation that's perfectly taught and slightly crispy on the outside with warm, fresh ingredients on the inside. We have compiled a cookbook of some of our favorite recipes so far, ranging from the classic Cheese Toastilla Pocket to a Pizza Toastilla Pocket, Margharita Toastilla Pocket or even a Toastilla Pocket made with Brie Cheese. The possibilities are endless.

Experience – With our team initially consisting of business development and growth experience, as Toastilla's been put in motion, we have been able to establish a wonderful team across the board for marketing, designing and manufacturing as well. We feel blessed with the team we have established and know that they are a dynamic team that can accomplish great things.
Who Is Toastilla© Designed For...
| | |
| --- | --- |
| The Original "Toastilla": Designed with consumers in mind, to be used as a multipurpose cooking device that utilizes your own toaster to create endless possibilities, Toastilla is what every consumer needs. With its hinged bottom, interlocking handles and sleek design, Toastilla can cook anything from corn tortillas to quesadillas (or as we like to refer to them…Toastilla Pockets), from frozen foods to fresh from the garden peppers and veggies, right in your toaster. When you're finished, Toastilla stores beautifully on your counter, right in your toaster. Toastilla is made of food grade stainless steel with high temp plastic handles designed to stay cool to the touch, so there's no need to worry about burning your fingers. Toastilla can also be placed in the dishwasher as needed. Toastilla is light weight and can easily be packed in a bag or suitcase when traveling. Everyone needs a Toastilla. | |
Household Use – So many uses: quick snack, on-the-go morning breakfast, re-purpose leftovers, teach kids independence and good eating habits, give kids responsibility at dinner time

College Students – No access to a kitchen? With a few on hand or easily accessible ingredients you can create healthy quick snacks during study hour, a quick breakfast as you run out to your first class or a delicious midnight snack.
Travelers (Work or Pleasure) – Traveling and the constant eating out can get expensive, pack Toastilla and use the hotels toaster in the lobby or in your room to take some of the burden off your food budget while traveling. Be in control of your food, never go hungry when running late for a meeting.

Employers – What's one staple in the break room? A toaster. Now that toaster can be used for more than just the morning toast, allowing employees to easily access a healthy on-the-go snack or meal without having to leave the office.