​Okay, okay, every "bad" parent gets it. We feed our kids processed mac and cheese and chicken nuggets from two-years-old until we boot them off to college at 18. I'm pretty sure that is the American dream. But, in our household we do like to try and eat healthy. Sure, we might slip a bit, but for the most part we really do try to eat healthy – even though it's so much more fun to be bad! Green Bay Packer fans get it, am I right? Cheese curds…mmm!

Anyway, it can be difficult to convince your children that eating healthy can be just as tasty as living off Spaghettios (with meatballs…we aren't savages you know). With kids, there will always be a learning curve to find out exactly what works. The good thing is that, just like watching Moana, once your child finds that special combination they will eat it over and over and over…parents, you get it.

Adults like to eat something that looks nice, we all do. But, with kids, looks will always dictate what they feel is edible. Even if chocolate cake doesn't look right they won't touch it. A good example is a friend of our who needs to add pink food coloring to every bowl of oatmeal, pancake batter and mac & cheese he makes for his four-year-old daughter. You can probably figure out what her favorite color is.

​The thing is, you need to make it look kid friendly and of course they should help you make their own Toastillas. That's always important! So, here are a few kid combinations to ease your child into a world healthy options. To start, we suggest using puree (tomato, spinach, etc.) or whole wheat tortillas.

The BLT
The BLT is a classic sandwich and contrary to popular belief bacon is actually pretty good for you. You'll have to trust me on this. Simple, right? Bacon, lettuce and tomato…and mayo – ehhhhh! (That's my buzzer sound). Yes, that mayo, while it works perfect with this combo can be criticized for its calories and fat content (you know because it is all fat). One way to improve on the BLT is to prepare a mix of Hidden Valley Dry Ranch powder and sour cream. Add only enough powder to the sour cream for taste and then let your kids dip away instead of adding it to the toastilla. Because of the tomato and lettuce, you might want to cook this Toastilla at a half-setting than normal.
---
---
Roasted Chicken with Wild Rice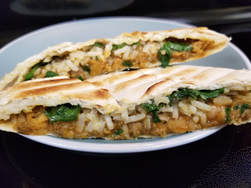 This is more like a Thanksgiving Toastilla, but just like your after Thanksgiving thought of cooking a turkey every month, you can actually have it year round. Grab one of those small roasted chickens from the grocery store, and layer in cooked wild rice. Then fill a ramekin with a prepared cranberry sauce – light on sugar, heavy on taste.
---
---
Beans and Franks
Okay, so you'll have to be a little secretive with this one and swap out your everyday hotdogs with veggie hotdogs. Trust us, your kids will probably have no idea. Then top with Bush's Baked Beans. Yes, there are additional calories in the baked bean sugars, but did you know that a half a cup of beans a day is linked to significant longevity. In fact, beans are the cornerstone of
Blue Zone diets
. The blue zones are the parts of the world that have abnormally high rates of people living to be 100-years-old or older.
---
---
The Apple Pie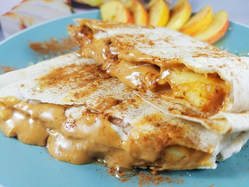 This version of an apple pie has just enough natural sweetener for your kids to maintain their energy, as well as get a tasty and healthy after-school snack. Spread a thin layer of peanut butter on the center of your tortilla and then layer with thin slices of apple. Sprinkle cinnamon on the apples and dribble a little honey before folding and toasting.
---
---
The Spaghetti Toastilla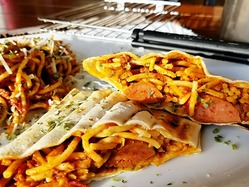 The Spaghetti Taco was made famous by the kids TV show iCarly, but it was Rudy who brought it to Toastilla. We suggest using a tomato tortilla. Spread pasta sauce on the tortilla, and then layer spinach veggie spaghetti and parmesan cheese before folding and toasting. It's pretty darn good and if you want you can fill a ramekin with warmed pasta sauce for dipping.
---